How many friends will be in my class?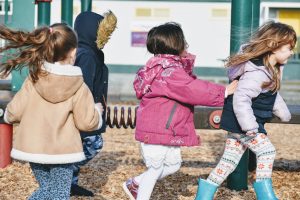 The classes will be mixed 3 & 4 year olds and each class can have up to 16 children. The number of three year olds in each class will be limited based on overall enrollment and optimal class composition. For both ages, spaces are available on a first-come, first-served basis.
What is the teacher-to-child ratio?
Generally speaking, there is a 1:8 teacher to student ratio in the class. If there is a greater number of three year old students, the ratio will drop to 1:6.
Will my child be safe?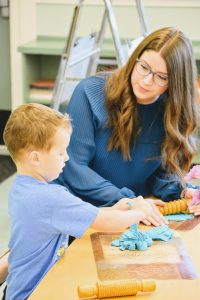 That's our teachers' most important job! Our teachers are trained in First Aid, and children are visible at all times in any area of the preschool. At the start of each school year, families put together "Emergency Comfort Kits" for their child in case of emergency (e.g. juice box, family picture, small toy, granola bar etc.). Your safety and comfort is important to us all!
What can we bring for a snack?
Children will be bringing healthy snacks from home with a water bottle and/or water will be provided. However, celebrations do occur at Halloween, Christmas, Valentine's, and Easter. Parents will sign up to bring snacks on these days. On a child's birthday, often the parent will bring a healthy snack and a cookie or cupcake treat to share on that day, or as close to the day as possible.
**Baker's Corner is a nut-free facility.
How much work is there for the parents?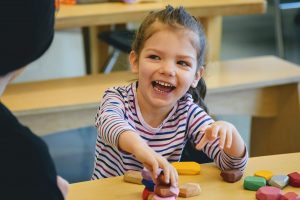 Our new Parent Involvement Preschool model is slightly different from a parent participation school. There is a short clean-up duty once a month after class. Parents can request to participate for field trips or volunteer days occasionally. Since our non-profit preschool only employs the teachers, parents also take on a job with the operation of the school, such as bookkeeping, fundraising, laundry, or publicity. Most jobs require less than 1 hour per week. In addition to this job, you will also be required to attend four general meetings per year. Because we have so few general meetings, attendance by a parent or other family member is highly encouraged. They typically run 45 minutes – 1 hour in length and begin at 7 pm.
Does my child need to be toilet-trained?
We require children to toilet-trained before entering preschool. Should a child still require "pull-ups" for occasional accidents, the teachers may permit this on a case-by-case basis.