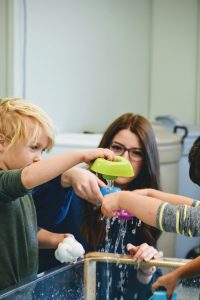 We are a community-based Coquitlam preschool, with early childhood education programs to nurture, inspire and support preschool-aged children (ages 30 months to pre-Kindergarten). Our program schedule offers the choice of preschool classes twice a week, three times a week, or every weekday. Read about our sample daily schedule, play-time activities, and special events.
Located at Parkland Elementary in central Coquitlam, our facilities include a spacious classroom with a bathroom and cubby-area, covered outdoor play area, playground, grass-field and parking lot just feet from our classroom door.
Our two dedicated Early-Childhood Educators are devoted to the development of your child, and preparation for their educational journey. Contact us to plan your visit, or to inquire for more information.
2023-2024 Program Information and Fees
Fees are subject to change.
Greenbird Class
Redbird Class
Full Week
3 & 4* year olds
3 & 4 year olds
3 & 4 year olds
2 times / week
Tues / Thurs
3 times / week
Mon / Wed / Fri
5 times / week
Mon – Fri
9:15am – 11:45am
9:15am – 11:45am
9:15am – 11:45am
$165 / month
$200 / month
$345 / month
* Children must be the age of 3 by December 31st of the calendar year. Ex. in order for a child to start in September 2023 they must be 3 by December 31st 2023.
Tuition can be paid monthly, per semester, or yearly. Postdated cheques for the year are due with registration.
Council of Parent Participation Preschools Fee: $75 / year
Non-refundable registration fee: $80
Fundraising cheques: 2 x $75; which will only be cashed in lieu of participation in fundraising events.
Cleaning fee: $250; optional to opt-out of yearly cleaning duty (3 hrs / year).
Sample Daily Schedule
9:15 – Class begins
9:20 – Circle Time and Show & Tell
9:30 – Stations & Free Play
10:30 – Gym time
10:50 – Hand wash & healthy snack
11:05 – Circle Time
11:25 – Outside Time or Active Play
11:45 – Hometime
Special Events
We have annual events like Mother's Day tea, social evenings for parents, and a Father's Day Evening.  Some of the preschool's past events have included field trips to:
Vancouver Aquarium
Maplewood Farm
Port Moody Train Museum
Firehall
Visit from the Veterinarian
Honeybee Centre & Bug Lab
Visit from an RCMP officer
Laity Pumpkin Patch
Visit with the Dentist
Visit from O.W.L
Stations and Free Play
Activities may include:
reading
painting at the easel
playing dress-up
looking through a microscope
letter recognition
playing at the water table
doing a puzzle
planting seeds
counting
building a marble run with peers
sorting shapes
piecing together train tracks
cooking with the teacher
drawing
creating with playdough
having quiet time